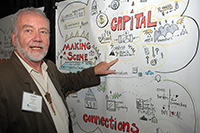 ETHOM Associates has been furnishing technological solutions for client operations for over twenty years. The business began with helping banks handle their internal accounts more efficiently. We branched out to other solutions as the technology world has changed. Most recently, we have been involved in the mobile solutions space.
With the world changing at its current pace, it is more and more difficult to keep abreast of those technologies that can mean a difference in your business.That's where ETHOM helps. We are involved in client empowerment from back-up power for the IT plant, to implementation of web and mobile solutions. We help our clients compete more efficiently.
ETHOM does this by partnering with the best people for a given situation. From our partnership with Eaton for their premier power products, to our personal relationships in the technical community, ETHOM can help contribute to your organization's bottom line. Sometimes, just knowing who to consult makes all the difference.
If you run a small to medium size business, and you need a partner to help you understand technology issues, ETHOM can help.